Are you crafty? Like seriously crafty? Do you want to be part of Kelowna's largest craft & artisan markets? We want YOU to apply! Craft Culture is looking for high quality vendors offering extraordinary products in a wide variety of categories.
REGISTRATION FOR THE FALL/HOLIDAY MARKETS IS NOW CLOSED. RESULTS WILL BE EMAILED BETWEEN MAY 29 TO JUNE 2.
ANY VENDORS THAT MISSED THE DEADLINE CAN NOW APPLY TO BE PLACED ON THE WAITLIST, AND WILL ONLY BE CONTACTED IF A SPACE OPENS UP.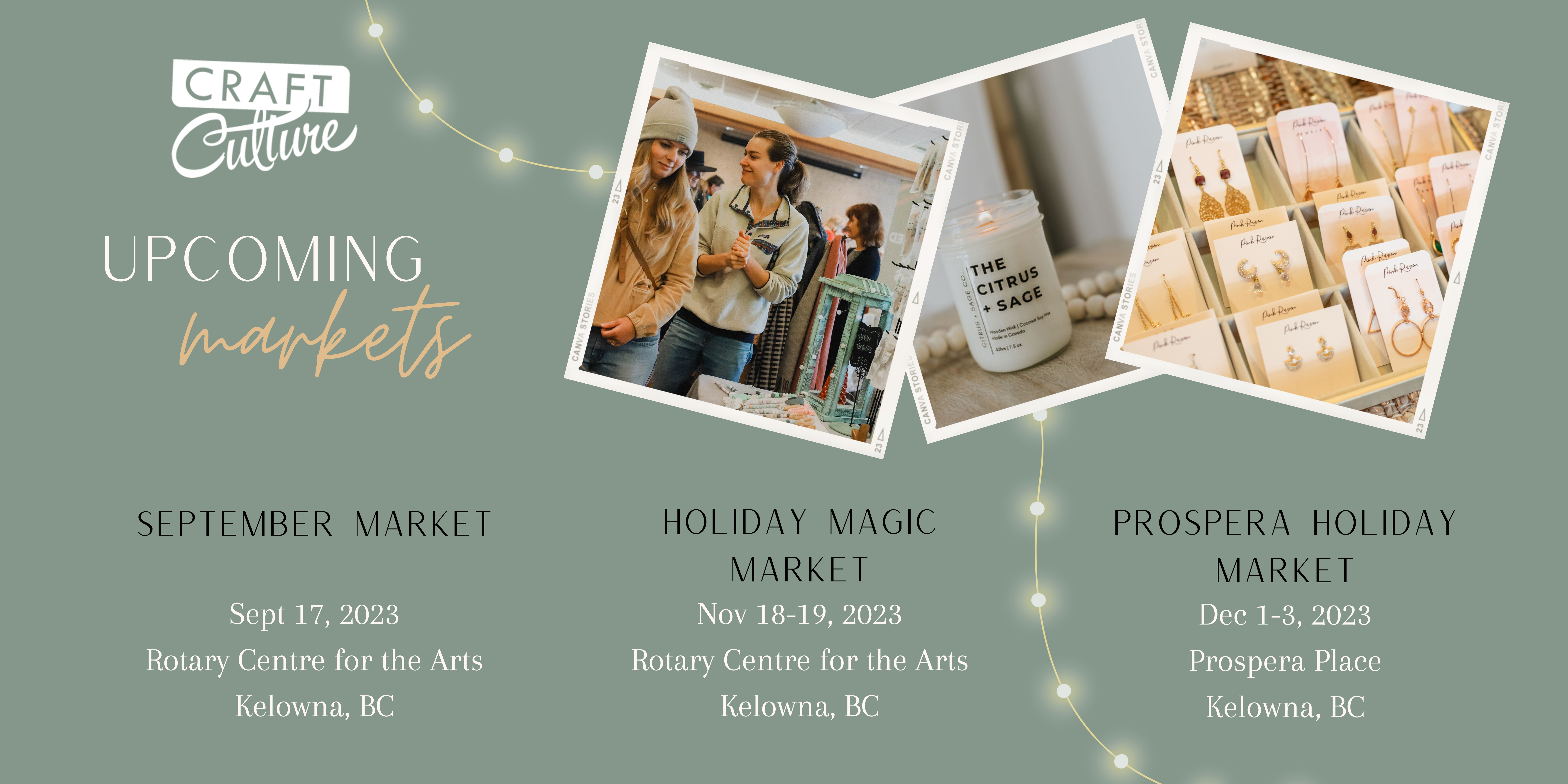 Please sign up to the vendor mailing list below so we can keep you in the loop regarding all upcoming events and registration deadlines!
FALL/HOLIDAY MARKETS
SEPTEMBER MARKET
Sept 17th 2023
Rotary Centre for the Arts, Kelowna
Setup: 7:30am to 10am
Show hours: 10am to 4pm
A mix of indoor and outdoor spaces, $135 per space. Indoor vendors will have approx. 7'x4' of space.  Table is not included.  Placement near a power outlet can be requested. Outdoor vendors will have a 10×10 space.  No power is available.  Vendors must bring all furnishings.
Liquor vendors can apply. 
Estimated attendance – 1500-2000 people
HOLIDAY MAGIC MARKET
November 18-19 2023
Rotary Centre for the Arts, Kelowna
Setup: Saturday 7:30am to 10am
Show Hours: Saturday 10am to 5pm, Sunday 10am to 4pm
$225 per space.  Each vendor will have approx. 7'x4' of space which is suitable for table top displays only.  Table is not included.  Placement near a power outlet can be requested.
Liquor vendors can apply. 
Estimated attendance – 2500-3000 people
PROSPERA PLACE HOLIDAY MARKET
December 1-3, 2023 at Prospera Place
Setup – Friday 8am to 1pm
Show Hours – Friday 1pm to 7pm
Saturday 10am to 5pm
Sunday 10am to 5pm
A mix of 5×7, 8×10, and 7×10 spaces ranging from $225 to $625.
We cannot accept liquor vendors at this venue.
Estimated attendance – 9000-10,000 people
CRAFT CULTURE ETIQUETTE – THINGS TO KNOW BEFORE YOU APPLY:
– Do your research.  Please make sure these markets are suitable for your brand, budget, and schedule before you apply.
– Read the Exhibitor Manual . It has a lot of important information! If you still have questions, please email info@culture.ca. Please ask questions BEFORE you apply, not after you have been accepted.
– when you apply for a market, we assume you want to attend! Please do not waste our time and take away a spot from another vendor by not communicating with us.  We work with over 600 vendors a year and it is a lot to manage.
– want to withdraw your application?  You can log into the vendor portal at any time and withdraw your application.  If you have already been accepted, let us know right away at info@craftculture.ca
– Vendors must have a back up plan incase you become sick cannot attend the event last minute.  We can not issue last minute refunds so PLEASE make sure you have a friend or family member lined up to cover you if needed.
– Please check your junk folder! If you have not worked with us before, our first emails often end up in the junk folder. Please add info@craftculture.ca and noreply@conventionforce.com to your safe list.
– Craft Culture Markets are vibrant, uplifting events that prioritize positivity. We put an emphasis on creating and maintaining an atmosphere of respect and inclusivity—any attempts at negativity, gossip, or bullying will not be tolerated.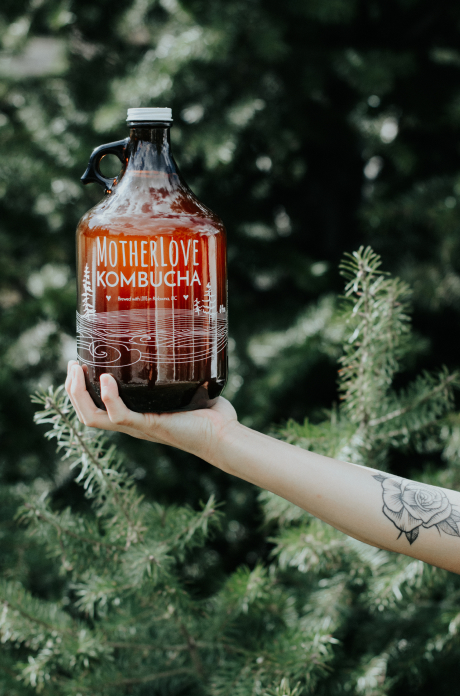 What is the application process?
We accept applications through our online portal only, which will be linked on this page.  After registration is closed, vendors will be emailed acceptance results. If accepted, vendors can log back in and choose the booth space and pay for the invoice online. Accepted applicants will have 7 business days from the date of the acceptance email to pay the full amount of the booth fees, otherwise they forfeit their spot. In some cases, we accept deposit payments with the remainder due 1 month before the market.
Who can apply?
Craft Culture is a juried show. We are looking for modern vendors with exceptional branding, that offer a wide variety of products to our customers.  Acceptance is based on the quality, originality and craftsmanship of the work to be sold. Other factors include booth display, product packaging, website quality, social media presence,  and product categories within each show so that no one category is saturated. Only work produced by you or under your direct supervision will be considered. Commercially manufactured products, work assembled from commercial kits or materials or work represented by dealers or agents will not be allowed. Sorry folks, this includes Avon, Mary Kay, Stella and Dot, Norwex etc.
Do you accept craft distilleries, wineries, breweries?
This varies from venue to venue, depending on the existing liquor licence. 
What is the cost?
Booth prices range between $125-$550 depending on the size of space, duration of event, and the venue.
Can I share a booth?
No, sorry. Sharing is no longer allowed at Craft Culture Markets.
Can I bring my own table?
You bet! Vendors are welcome to bring along any display items including tables, chairs, floor covering etc. Our show contractor, Showtime Event & Display, can also rent any of the common items if needed at any of our larger events.
What is the cancellation policy?
Cancellations must be requested in writing. If requested 60 days or more before the show, vendors will receive a full refund less a $100 cancellation fee.  If cancelled 60 to 30 days before the show, vendors will receive a 50% refund.  After that there are no refunds (30 days prior to the show start date).
If the event is forced to cancel due to any COVID 19 health restrictions, Tall Cloud Productions will do our best to offer vendors full or partial refunds.  The amount refunded will depend on how close to the date the event is cancelled and how much show management has already spent on non refundable show costs.  At the very least, vendors will be offered full credits to use towards future events.
Vendor Newsletter
Join the mailing list for our vendors to stay informed on all the latest Craft Culture events.